Services
Since 1995 TER has helped recover more than 1,950 stolen items of equipment worth over £11m.
Using the following TER services will assist the police and law enforcement agencies with the identification and recovery of stolen plant and equipment. Our aim is to reduce equipment theft for all our clients by keeping accurate ownership records of plant, agricultural and construction equipment so they can be returned if stolen.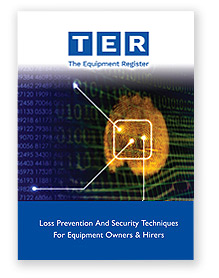 Loss prevention guide
Download our free loss prevention guide (3Mb PDF) and improve the security and protection of your equipment.