Value It!
Accurate plant and equipment valuations.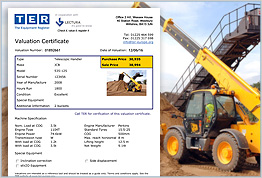 A TER Valuation (£15+vat) will provide an accurate valuation for almost any type of plant or equipment.
Our valuations are powered by Lectura, a database of over 80,000 makes and models and you'll receive a TER Valuation Certificate once the process has been completed.
Start your TER Valuation now by entering the following:
---
Please create an account or sign-in to continue.
To use this service, please first Create an account.
Or if you have an existing account please Sign-in here.